Click on the thumbnail to open the full size photo.
Click any of the thumbnails above to view the full sized photo in a lightbox.
Once opened, click on the right or left side of the images to scroll through the other images above.
Buteo lineatus
RED SHOULDERED HAWK
Florida native
Red shouldered hawks range throughout the central and eastern United States and west of the Sierra Nevada in California. Most are year-round residents, but there is also a population that breeds in the northeast United States and the adjacent area of Canada and then migrates to Mexico for the winter.
Smaller than red-tailed hawks, Buteo lineatus is usually found in or near wet woodlands hunting mainly mammals, some reptiles and amphibians - typically by dropping on the prey from perches. Females are typically larger than males. They are one of the most vocal hawks in North America.
There are five subspecies of B. lineatus. The two found in Florida are paler than the others, with the hawks in south Florida being the palest. The California population is a separate subspecies from the four eastern forms.
---
Buteo lineatus is a member of the Accipitridae - Hawks & Eagles family.
---
Other species of the Buteo genus in the Wild Florida Photo database:
View Buteo platypterus - BROAD-WINGED HAWK

---
Birds of Florida
Todd Telander
A Falcon Field Guide

Purchases of this ebook made by clicking the image link below help support this website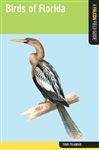 Each Falcon Field Guide to birds introduces the 180 most common and sought-after species in a state. Conveniently sized to fit in your pocket and featuring full-color, detailed illustrations, these informative guides make it easy to identify birds in a backyard, favorite parks, and wildlife areas. Each bird is accompanied by a detailed listing of its prominent attributes and a color illustration showing its important features. Birds are organized in taxonomic order, keeping families of birds together for easy identification. This is the essential source for the field, both informative and beautiful to peruse.
---
For more information on this species, visit the following link:
Cornell Lab of Ornithology All About Birds page for this species
Date record last modified:
Aug 07, 2016