Click on the thumbnail to open the full size photo.
Click any of the thumbnails above to view the full sized photo in a lightbox.
Once opened, click on the right or left side of the images to scroll through the other images above.
Bubo virginianus
GREAT HORNED OWL
Florida native
Great horned owls range throughout North America from northern Alaska and Canada, south through Mexico to Nicaragua. Also found in parts of South America. Habitat is typically woodland, from dense forest to city parks and vacant lots.
One of the larger owls, adults are 46-63 cm (18-25 in.) in length with a 1 - 1.45 meter (40-57 in.) wingspan and weighing 910-2500 g (2-5.5 lbs.). Florida owls are of the eastern variant.
Prey include mammals, birds and reptiles, up to several times heavier than itself.

Great Horned Owls were the subject of the March 2014 Paul Rebmann Nature Photography blog post.


---
Bubo virginianus is a member of the Strigidae - Typical Owls family.
---
Other species of the Bubo genus in the Wild Florida Photo database:
View Bubo scandiacus - SNOWY OWL

---
Birds of Florida
Todd Telander
A Falcon Field Guide

Purchases of this ebook made by clicking the image link below help support this website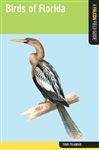 Each Falcon Field Guide to birds introduces the 180 most common and sought-after species in a state. Conveniently sized to fit in your pocket and featuring full-color, detailed illustrations, these informative guides make it easy to identify birds in a backyard, favorite parks, and wildlife areas. Each bird is accompanied by a detailed listing of its prominent attributes and a color illustration showing its important features. Birds are organized in taxonomic order, keeping families of birds together for easy identification. This is the essential source for the field, both informative and beautiful to peruse.
---