Click on the thumbnail to open the full size photo.
Click any of the thumbnails above to view the full sized photo in a lightbox.
Once opened, click on the right or left side of the images to scroll through the other images above.
Aphelocoma coerulescens
FLORIDA SCRUB-JAY
Florida native
Endemic to Florida
Threatened Florida species

U.S. Threatened species

The Florida scrub-jay is the only species of bird restricted entirely to Florida. It is dependent on scrub habitat with particular characteristics dependent on periodic wildfires. Optimal habitat consists of palmetto scrub with scattered oaks from one to three meters high and some unvegetative, sandy openings. They can also live in scrubby flatwoods if the pine canopy is open. Aphelocoma coerulescens is considered imperiled due to wildfire supression allowing excessive plant growth in what was naturally scrub and loss of habitat from development.
These are large songbirds, with a blue head, wings and tail, a white throat and a blue 'necklace'. The back and belly are pale gray. Juveniles have a dull brown head and brown back, otherwise like adults.


---
Aphelocoma coerulescens is a member of the Corvidae - Jays, Crows & their allies family.
---
Birds of Florida
Todd Telander
A Falcon Field Guide

Purchases of this ebook made by clicking the image link below help support this website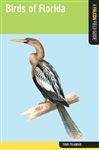 Each Falcon Field Guide to birds introduces the 180 most common and sought-after species in a state. Conveniently sized to fit in your pocket and featuring full-color, detailed illustrations, these informative guides make it easy to identify birds in a backyard, favorite parks, and wildlife areas. Each bird is accompanied by a detailed listing of its prominent attributes and a color illustration showing its important features. Birds are organized in taxonomic order, keeping families of birds together for easy identification. This is the essential source for the field, both informative and beautiful to peruse.
---
For more information on this species, visit the following link:
Saving the Florida Scrub Jay at Cornel Lab of Ornithology website
Date record last modified:
Feb 03, 2018