Click on the thumbnail to open the full size photo.
Click any of the thumbnails above to view the full sized photo in a lightbox.
Once opened, click on the right or left side of the images to scroll through the other images above.
Antigone canadensis
SANDHILL CRANE
Synonym: Grus canadensis
Florida native
Threatened Florida species

A large bird of open grasslands, meadows and wetlands, can sometimes be seen in residential areas and roadsides.
Two subspecies of sandhill cranes can be found in Florida. A population of about four to five thousand non-migratory Antigone canadensis - subspecies pratensis - live year round in Florida and south Georgia. These Florida sandhill cranes are state listed as threatened. A larger population of greater sandhill cranes spends winters in Florida and summers in the Great Lakes region. The two subspecies are indistinguishable from each other. Sandhill cranes were removed from the genus Grus in 2016. The other species of Antigone are found in Asia and Australia. Antigone is the name of Oedipus's daughter/half-sister in Greek mythology.
Sandhill cranes have gray bodies, red foreheads and white cheeks. They are up to 120cm (~4 ft.) tall with a wingspan of 200 cm (~ 6-1/2 ft.). Males and females are similar to each other, with the males being slightly larger. Mated pairs remain together year-round.


---
Antigone canadensis is a member of the Gruidae - Cranes family.
---
Birds of Florida
Todd Telander
A Falcon Field Guide

Purchases of this ebook made by clicking the image link below help support this website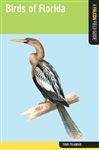 Each Falcon Field Guide to birds introduces the 180 most common and sought-after species in a state. Conveniently sized to fit in your pocket and featuring full-color, detailed illustrations, these informative guides make it easy to identify birds in a backyard, favorite parks, and wildlife areas. Each bird is accompanied by a detailed listing of its prominent attributes and a color illustration showing its important features. Birds are organized in taxonomic order, keeping families of birds together for easy identification. This is the essential source for the field, both informative and beautiful to peruse.
---
For more information on this species, visit the following link:
Cornell Lab of Ornithology All About Birds page for this species
Date record last modified:
Mar 13, 2017