Click on the thumbnail to open the full size photo.
Click any of the thumbnails above to view the full sized photo in a lightbox.
Once opened, click on the right or left side of the images to scroll through the other images above.
Rynchops niger
BLACK SKIMMER
Florida native
Florida Species of Special Concern

Black skimmers are the only North American bird with a lower mandible longer than the upper. Primarily coastal in Central and North America, as far north as the Salton Sea near San Diego on the west coast and Massachusetts on the east coast in the summer. Ranges through much of South America except in the Andes range. Most of the North American breeding occurs along the gulf coast.
Easily identified by the distinctive beak, white underneath and dark on top. Black crown continues down the back of the neck when in breeding plumage (Mar.-Sep.), has a white color during the non-breeding season (Sep.-Mar.). Length 46 cm (18 in) wingspan 112 cm (44 in) males larger than the females.
Graceful flyer,with wingbeats mostly above the body and the head held lower than the tail. Glides just above the water with the lower mandible dipped in the water. When the skimmer encounters a fish, tucks the head down to grab it. Often rests on the ground completely prone with the head stretched forward.
There are only three species of skimmers, Rynchops niger in the Americas, R. flavirostris (African skimmer) on the African continent, andR. albicollis (Indian skimmer) on the Indian subcontinent with small numbers in southeast Asia.


---
Rynchops niger is a member of the Laridae - Gulls, Terns & Skimmers family.
---
Birds of Florida
Todd Telander
A Falcon Field Guide

Purchases of this ebook made by clicking the image link below help support this website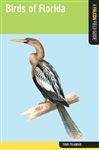 Each Falcon Field Guide to birds introduces the 180 most common and sought-after species in a state. Conveniently sized to fit in your pocket and featuring full-color, detailed illustrations, these informative guides make it easy to identify birds in a backyard, favorite parks, and wildlife areas. Each bird is accompanied by a detailed listing of its prominent attributes and a color illustration showing its important features. Birds are organized in taxonomic order, keeping families of birds together for easy identification. This is the essential source for the field, both informative and beautiful to peruse.
---
For more information on this species, visit the following link:
Cornell Lab of Ornithology web page for this species
Date record last modified:
Aug 07, 2016