Click on the thumbnail to open the full size photo.
Click any of the thumbnails above to view the full sized photo in a lightbox.
Once opened, click on the right or left side of the images to scroll through the other images above.
Pomacea insularum
ISLAND APPLESNAIL
Not native to Florida
This South American native is now the largest non-marine snail in Florida. Initially identified - both by myself and many experts in the field - as Pomacea canaliculata (channeled applesnail). P. insularum (island applesnail) is now recognized as another, separate invasive species.
Island and channeled applesnails feed aggressively on aquatic and terrestrial plants and are a serious agricultural pest in rice-producing states.
Both of these invasives can be distinguished from the native applesnail by the deep groove or channel between whorls, and the larger bunches of smaller pink eggs. The native Florida applesnail lays clutches of less than a hundred eggs that are white to slightly pinkish and 3-6 mm in diameter. Island applesnails lay clutches of around a thousand tiny pink eggs that may fade during the two to three weeks they take to hatch. Channeled applesnails are in between these species in both size and number, laying clutches of over 300 pink eggs. For more information on all Florida species of Pomacea, see the Florida Fish and Wildlife Conservation Commission Non-native Applesnails in Florida handout(pdf) which includes a form to report sightings of the invasive species.
---
Pomacea insularum is a member of the Ampullariidae - Apple snails family.
---
Other species of the Pomacea genus in the Wild Florida Photo database:
View Pomacea paludosa - FLORIDA APPLE SNAIL

---
Molluscan Communities of the Florida Keys and Adjacent Areas
Edward J. Petuch; Robert F. Myers
Their Ecology and Biodiversity

Purchases of this ebook made by clicking the image link below help support this website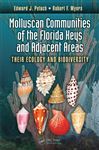 Molluscan Communities of the Florida Keys and Adjacent Areas: Their Ecology and Biodiversity is the first comprehensive overview of the ecology and biodiversity of the phylum Mollusca in the area of Florida extending from the Dry Tortugas and Ten Thousand Islands in the west to Palm Beach in the east. The book provides detailed analyses of molluscan faunas found in 20 different ecosystems, emphasizing the marine environments of the Florida Keys archipelago and its extensive coral reef tracts. Full-page color illustrations portray living animals, unique Keys environments, underwater ecosystems, and satellite images. More than 1,200 species of macromollusks—in 86 gastropod families and 54 bivalve families—are recorded from the study area, with color plates illustrating over 550 of the region's most ecologically important species. For the first time in any book on the malacology of the Florida Keys area, the 20 marine ecosystems and their associated molluscan assemblages are arranged by the CMECS (Coastal Marine Ecological Classification Standard) system. This system emphasizes the hierarchical relationships determined by substrate type, bathymetry, and water chemistry. Along with complete species lists for every molluscan assemblage, this handy guide introduces ten newly-discovered gastropods, including new species in the families Muricidae, Buccinidae, Nassariidae, Naticidae, Turritellidae, and Olividae. Two new bivalves in the families Pectinidae and Arcidae are also described in a special systematic appendix. This richly illustrated book is written for the professional scientific audience interested in mollusks, marine ecology, evolution, and taxonomy as well as malacologists, naturalists, and shell collectors. It is also an ideal synoptic field guide, showing where individual species of mollusks can be found and within which ecosystems they occur.
---