Click on the thumbnail to open the full size photo.
Click any of the thumbnails above to view the full sized photo in a lightbox.
Once opened, click on the right or left side of the images to scroll through the other images above.
Grus americana
WHOOPING CRANE
Florida native
U.S. Endangered species

Florida Species of Special Concern

Whooping cranes numbered less than two dozen in the early 1940s. Today there are about 500 individuals, with nearly a third of that number in captivity. The recovery is due to an involved captive breeding and reintroduction program that includes training the birds to migrate using ultralight aircraft.
Based on historical records of whooping cranes in Florida, two reintroduction programs were undertaken. A non-migratory population was established in the Kissimmee prairie area of central Florida and a separate population that migrates between the Neceda National Wildlife Refuge in Wisconsin and the Chassahowitzka NWR in coastal west central Florida. The largest population of whooping cranes migrate from north Canada to Texas.
This is the tallest bird in North America with adults being mostly white, with black wingtips and red on the head. Feathers are tufted over the rump.
More photos of whooping cranes led on migration from Wisconsin to Florida by Operation Migration ultralights can be seen here.


---
Grus americana is a member of the Gruidae - Cranes family.
---
Birds of Florida
Todd Telander
A Falcon Field Guide

Purchases of this ebook made by clicking the image link below help support this website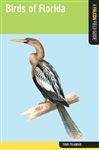 Each Falcon Field Guide to birds introduces the 180 most common and sought-after species in a state. Conveniently sized to fit in your pocket and featuring full-color, detailed illustrations, these informative guides make it easy to identify birds in a backyard, favorite parks, and wildlife areas. Each bird is accompanied by a detailed listing of its prominent attributes and a color illustration showing its important features. Birds are organized in taxonomic order, keeping families of birds together for easy identification. This is the essential source for the field, both informative and beautiful to peruse.
---
For more information on this species, visit the following link:
Cornell Lab of Ornithology All About Birds
Date record last modified:
Aug 07, 2016