Click on the thumbnail to open the full size photo.
Click any of the thumbnails above to view the full sized photo in a lightbox.
Once opened, click on the right or left side of the images to scroll through the other images above.
Athene cunicularia
var. floridana
FLORIDA BURROWING OWL
Florida native
Florida Species of Special Concern

The range of these diminutive owls includes much of the Florida peninsula, excluding northeast Florida, with a disjunct population in Okaloosa County. They are most likely to be seen in the southern half of the state. The range also includes the Bahamas.
Some designate the Florida burrowing owls as a subspecies while others consider them a separate population of Athene cunicularia, which are resident from the southwestern United States through central Mexico plus parts of South America. During the breeding season the range extends northward through the western United States into Canada. Winter populations occur in Texas and the coastal areas of Mexico and Central America.
The only owl likely to be seen standing on the ground during the day, they are diurnal, being most active in the morning and evening hours. Standing 19-25 cm (7-10 in.) tall on long legs, they have a wingspan of 55cm (22 in.). Adults are brown(paler outside Florida) with white spots overall. Fledglings have a buffy underside which in the Florida birds are marked with scattered darker bars.
Burrowing owls live in burrows that they excavate themselves or those left by other animals, such as the gopher tortoise. Natural habitats are dry prairies and sandhills, although they make use of any high, sparsely vegetated, sandy ground, such as pastures and vacant lots.

---
Athene cunicularia is a member of the Strigidae - Typical Owls family.
---
Birds of Florida
Todd Telander
A Falcon Field Guide

Purchases of this ebook made by clicking the image link below help support this website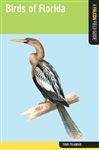 Each Falcon Field Guide to birds introduces the 180 most common and sought-after species in a state. Conveniently sized to fit in your pocket and featuring full-color, detailed illustrations, these informative guides make it easy to identify birds in a backyard, favorite parks, and wildlife areas. Each bird is accompanied by a detailed listing of its prominent attributes and a color illustration showing its important features. Birds are organized in taxonomic order, keeping families of birds together for easy identification. This is the essential source for the field, both informative and beautiful to peruse.
---
For more information on this species, visit the following link:
Florida Natural Areas Inventory page (pdf) for this species
Date record last modified:
Feb 04, 2018