Click on the thumbnail to open the full size photo.
Click any of the thumbnails above to view the full sized photo in a lightbox.
Once opened, click on the right or left side of the images to scroll through the other images above.
Setophaga discolor
PRAIRIE WARBLER
Synonym: Dendroica discolor
Florida native
Prairie warblers are found in a variety of habitats throughout the eastern United States and into Ontario, often brushy second growth woodlands.
The Florida prairie warbler - subspecies paludicola - ranges from central Florida southward into the West Indies during the winter and breeds almost exclusively in the mangroves of south Florida and the Tampa Bay area.
S. discolor discolor is olive colored above and yellow below with black stripes on the sides. Males also have chestnut streaks on the back. Females are paler with less solid side stripes. This is the only warbler with yellow underparts and a dark malar stripe separating the yellow below the eye from the yellow on the throat.
S. discolor paludicola is much paler overall with males lacking the dark side stripes and the reddish markings on the back.
Previously considered the genus Dendroica. now classified as being in the genus Setophaga.
---
Setophaga discolor is a member of the Parulidae - Wood-warblers family.
---
Other species of the Setophaga genus in the Wild Florida Photo database:
View Setophaga coronata - YELLOW-RUMPED WARBLER
View Setophaga palmarum - PALM WARBLER

---
Birds of Florida
Todd Telander
A Falcon Field Guide

Purchases of this ebook made by clicking the image link below help support this website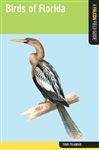 Each Falcon Field Guide to birds introduces the 180 most common and sought-after species in a state. Conveniently sized to fit in your pocket and featuring full-color, detailed illustrations, these informative guides make it easy to identify birds in a backyard, favorite parks, and wildlife areas. Each bird is accompanied by a detailed listing of its prominent attributes and a color illustration showing its important features. Birds are organized in taxonomic order, keeping families of birds together for easy identification. This is the essential source for the field, both informative and beautiful to peruse.
---
For more information on this species, visit the following link:
Cornell Lab of Ornithology All About Birds page for this species
Date record last modified:
Aug 07, 2016