Click on the thumbnail to open the full size photo.
Click any of the thumbnails above to view the full sized photo in a lightbox.
Once opened, click on the right or left side of the images to scroll through the other images above.
Larus hyperboreus
GLAUCOUS GULL
Florida native
These large light colored gulls are occasional on the winter beaches of Florida. The summer breeding area is the high arctic areas of Canada and Alaska. Glaucous gulls tend to stay farther north in the winter than other gulls, with the primary wintering area extending south along the coasts to Virginia and California, plus the Great Lakes. Those wintering farther south tend to be first or second year gulls.
Our second largest North American gull - with large black-backed gulls being the largest - adults are 68 cm (27 in.) in length with a wingspan of 1.5 m (59 in.). Having pale legs at all ages, adults have a yellowish bill with red on the lower mandible near the tip. Younger gulls have paler bills with black near the tips. Adult plumage is mostly white, with a light gray back and light streaking on the head. The first two years glaucous gulls are white with various degrees of pale brown mottling. Eyes are dark the first year, paler in second year gulls.
---
Larus hyperboreus is a member of the Laridae - Gulls, Terns & Skimmers family.
---
Other species of the Larus genus in the Wild Florida Photo database:
View Larus marinus - GREAT BLACK-BACKED GULL
View Larus delawarensis - RING-BILLED GULL
View Larus philadelphia - BONAPARTE'S GULL
View Larus atricilla - LAUGHING GULL
View Larus argentatus - HERRING GULL

---
Birds of Florida
Todd Telander
A Falcon Field Guide

Purchases of this ebook made by clicking the image link below help support this website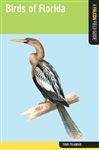 Each Falcon Field Guide to birds introduces the 180 most common and sought-after species in a state. Conveniently sized to fit in your pocket and featuring full-color, detailed illustrations, these informative guides make it easy to identify birds in a backyard, favorite parks, and wildlife areas. Each bird is accompanied by a detailed listing of its prominent attributes and a color illustration showing its important features. Birds are organized in taxonomic order, keeping families of birds together for easy identification. This is the essential source for the field, both informative and beautiful to peruse.
---
For more information on this species, visit the following link:
Cornell Lab of Ornithology All About Birds page for this species
Date record last modified:
Aug 07, 2016