Click on the thumbnail to open the full size photo.
Click any of the thumbnails above to view the full sized photo in a lightbox.
Once opened, click on the right or left side of the images to scroll through the other images above.
Sterna antillarum
LEAST TERN
Florida native
Threatened Florida species

These small terns can be seen along the Florida coasts from late spring through the summer. The summer range extends along the southeastern coast from Texas through the mid-Atlantic, from the central California coast into the Baja Peninsula, throughout the Caribbean, and along major river systems into the interior of the continent. Winters are spent along the northern coasts of South America.
Least terns are 23 cm (9 in.) long with a wingspan of 50 cm (20 in.), making them the smallest in North America. Breeding plumage from March through august exhibits a black cap with white forehead extending to near the eye. The back is light gray and the underside is white. Wings are relatively long and narrow with two black primaries. The bill is long, tapered, slightly recurved and yellow, sometimes with a black tip. Non-breeding plumage includes white on top of the head, with the black reduced to an eyestripe and the back of the head. Bill is black. Juveniles have U-shaped barring on the back, otherwise similar to winter adult.
Sterna antillarum traditionally nested along barrier island beaches and isolated stretches on mainland shores. With these areas becoming reduced by development and disturbed by human activity, least terns have adopted by utilizing flat gravel roofs near the coast and other water bodies. The mating ritual starts with the male tern showing off a fish to a prospective female. He will continue to hold the fish in his beak during mating, after which he will feed it to the female tern.
---
Sterna antillarum is a member of the Laridae - Gulls, Terns & Skimmers family.
---
Other species of the Sterna genus in the Wild Florida Photo database:
View Sterna maxima - ROYAL TERN
View Sterna hirundo - COMMON TERN

---
Birds of Florida
Todd Telander
A Falcon Field Guide

Purchases of this ebook made by clicking the image link below help support this website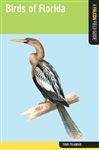 Each Falcon Field Guide to birds introduces the 180 most common and sought-after species in a state. Conveniently sized to fit in your pocket and featuring full-color, detailed illustrations, these informative guides make it easy to identify birds in a backyard, favorite parks, and wildlife areas. Each bird is accompanied by a detailed listing of its prominent attributes and a color illustration showing its important features. Birds are organized in taxonomic order, keeping families of birds together for easy identification. This is the essential source for the field, both informative and beautiful to peruse.
---
For more information on this species, visit the following link:
Cornell Lab of Ornithology All About Birds page for this species
Date record last modified:
Aug 07, 2016