Click on the thumbnail to open the full size photo.
Click any of the thumbnails above to view the full sized photo in a lightbox.
Once opened, click on the right or left side of the images to scroll through the other images above.
Ardea herodias
var. occidentalis
GREAT WHITE HERON
GREAT BLUE HERON WHITE MORPH
Florida native
Great white herons are found primarily in the Florida Keys, the Yucatan Peninsula and the Caribbean. They are also less frequently seen in the southern areas of the Florida peninsula.
Great white herons are typically about 10% larger than great blue herons and have an all white plumage. They can be differentiated from great egrets (Ardea alba) by their larger size and pale legs. (Great egrets have black legs and feet.) Where both great blue and great white herons are found, there is also often an intermediate morph, called Würdemann's heron, usually having the body color of a great blue, with a white head and neck.
The great white heron was first identified as a separate species called Ardea occidentalis, but is now generally accepted as a color morph of the great blue heron, Ardea herodias. Recent discussions have raised the question; are the two herons the same species, different subspecies, or completely different species. David Sibley in his original The Sibley Guide to Birds listed the great white heron is a color morph of the great blue. However he has recently stated that there appears to be a case for it being at least a subspecies (Ardea herodias occidentalis)
---
Ardea herodias is a member of the Ardeidae - Herons & Bitterns family.
---
Other species of the Ardea genus in the Wild Florida Photo database:
View Ardea alba - GREAT EGRET
View Ardea herodias - GREAT BLUE HERON

---
Birds of Florida
Todd Telander
A Falcon Field Guide

Purchases of this ebook made by clicking the image link below help support this website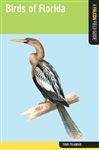 Each Falcon Field Guide to birds introduces the 180 most common and sought-after species in a state. Conveniently sized to fit in your pocket and featuring full-color, detailed illustrations, these informative guides make it easy to identify birds in a backyard, favorite parks, and wildlife areas. Each bird is accompanied by a detailed listing of its prominent attributes and a color illustration showing its important features. Birds are organized in taxonomic order, keeping families of birds together for easy identification. This is the essential source for the field, both informative and beautiful to peruse.
---