Click on the thumbnail to open the full size photo.
Click any of the thumbnails above to view the full sized photo in a lightbox.
Once opened, click on the right or left side of the images to scroll through the other images above.
Meleagris gallopavo
var. silvestris
EASTERN WILD TURKEY
Florida native
Eastern wild turkeys are found in the panhandle and across northern counties from the big bend to northeast Florida. They range throughout eastern North America to just west of the Mississippi River and north into Ontario and Quebec.
There are five subspecies of wild turkeys in the United States, one of which is also found in Mexico, along with two other subspecies. The two Florida subspecies are Meleagris gallopavo silvestris and M. gallopavo osceola - Florida or Osceola wild turkey.
Wild turkeys can often be found foraging in large flocks through open woods and clearings. they are a large dark bird with a narrow neck and small head. The tailfeathers on eastern and Osceola wild turkeys are rufus tipped. The other North American populations have white-tipped tailfeathers.
---
Meleagris gallopavo is a member of the Phasianidae - Pheasants and their allies family.
---
Other species of the Meleagris genus in the Wild Florida Photo database:
View Meleagris gallopavo var. osceola - OSCEOLA WILD TURKEY

---
Birds of Florida
Todd Telander
A Falcon Field Guide

Purchases of this ebook made by clicking the image link below help support this website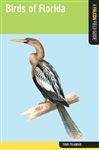 Each Falcon Field Guide to birds introduces the 180 most common and sought-after species in a state. Conveniently sized to fit in your pocket and featuring full-color, detailed illustrations, these informative guides make it easy to identify birds in a backyard, favorite parks, and wildlife areas. Each bird is accompanied by a detailed listing of its prominent attributes and a color illustration showing its important features. Birds are organized in taxonomic order, keeping families of birds together for easy identification. This is the essential source for the field, both informative and beautiful to peruse.
---
For more information on this species, visit the following link:
US Fish and Wildlife Habitat Leaflet for this species (pdf)
Date record last modified:
Aug 07, 2016