Click on the thumbnail to open the full size photo.
Click any of the thumbnails above to view the full sized photo in a lightbox.
Once opened, click on the right or left side of the images to scroll through the other images above.
Achatina fulica
GIANT AFRICAN LAND SNAIL
Synonym: Lissachatina fulica
Not native to Florida
Native to east Africa, mostly Kenya and Tanzania, this large land snail is invasive in many tropical and temperate parts of the world. There have been several instances where this snail has been found by the thousands in Miami, where an eradication effort is currently being undertaken. It is an established invasive in Hawaii.
The snail shell pictured here was collected in 2011 in Miami as part of the eradication program. This one is 13.3 cm (5-1/4 in) long and about 3 years old. Giant African land snails can reach 20 cm (~ 8 in.) long and 7 cm (2-3/4 in.) wide. The conical shells are typically twice as long as wide and can spiral in either direction, although right-handed (dextral) is more common. The shell patterns are highly variable and influenced by diet, although usually banded with brown the predominant color. Normally these snails have a life expectancy of five to six years in captivity, but can live up to ten years. Each year an adult snail may lay five or six clutches of up to 200 eggs each. Adult size is reached in six months, at which point growth slows but never stops.
Achatina fulica is considered one of the most damaging snails in the world because of the wide range of plants it will feed on, the prolific reproduction, and the fact that it can transmit rat lungworm disease to humans.
---
Achatina fulica is a member of the Achatinidae - Agate Snails family.
---
Molluscan Communities of the Florida Keys and Adjacent Areas
Edward J. Petuch; Robert F. Myers
Their Ecology and Biodiversity

Purchases of this ebook made by clicking the image link below help support this website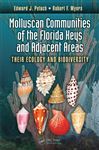 Molluscan Communities of the Florida Keys and Adjacent Areas: Their Ecology and Biodiversity is the first comprehensive overview of the ecology and biodiversity of the phylum Mollusca in the area of Florida extending from the Dry Tortugas and Ten Thousand Islands in the west to Palm Beach in the east. The book provides detailed analyses of molluscan faunas found in 20 different ecosystems, emphasizing the marine environments of the Florida Keys archipelago and its extensive coral reef tracts. Full-page color illustrations portray living animals, unique Keys environments, underwater ecosystems, and satellite images. More than 1,200 species of macromollusks—in 86 gastropod families and 54 bivalve families—are recorded from the study area, with color plates illustrating over 550 of the region's most ecologically important species. For the first time in any book on the malacology of the Florida Keys area, the 20 marine ecosystems and their associated molluscan assemblages are arranged by the CMECS (Coastal Marine Ecological Classification Standard) system. This system emphasizes the hierarchical relationships determined by substrate type, bathymetry, and water chemistry. Along with complete species lists for every molluscan assemblage, this handy guide introduces ten newly-discovered gastropods, including new species in the families Muricidae, Buccinidae, Nassariidae, Naticidae, Turritellidae, and Olividae. Two new bivalves in the families Pectinidae and Arcidae are also described in a special systematic appendix. This richly illustrated book is written for the professional scientific audience interested in mollusks, marine ecology, evolution, and taxonomy as well as malacologists, naturalists, and shell collectors. It is also an ideal synoptic field guide, showing where individual species of mollusks can be found and within which ecosystems they occur.
---
For more information on this species, visit the following link:
FL Dept. of Agriculture, Division of Plant Industry page for this species
Date record last modified:
Aug 14, 2016