Click on the thumbnail to open the full size photo.
Click any of the thumbnails above to view the full sized photo in a lightbox.
Once opened, click on the right or left side of the images to scroll through the other images above.
Otus asio
EASTERN SCREECH OWL
Florida native
These small owls are resident in Florida's wooded habitats. The range extends throughout much of the United States east of the Rockies and into some border areas of Canada.
Small owls, only 21.5 - 23 cm (8.5 - 9 in.) tall, they can be gray or various shades of reddish-brown. Eastern screech owls have a large head and almost no neck. Distinctive ear tufts are often raised. The tail is short and square and the wings are rounded.
The owl pictured here is Mr. Frodo, one of the Wild About Birds residents. This owl fell out of the nest onto a concrete driveway before learning to fly. Injuries prevent his return to the wild, so he is used by Wild About Birds for educational programs and events.
I would like to thank Wild About Birds for letting me photograph this Eastern screech owl.


---
Otus asio is a member of the Strigidae - Typical Owls family.
---
Birds of Florida
Todd Telander
A Falcon Field Guide

Purchases of this ebook made by clicking the image link below help support this website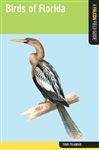 Each Falcon Field Guide to birds introduces the 180 most common and sought-after species in a state. Conveniently sized to fit in your pocket and featuring full-color, detailed illustrations, these informative guides make it easy to identify birds in a backyard, favorite parks, and wildlife areas. Each bird is accompanied by a detailed listing of its prominent attributes and a color illustration showing its important features. Birds are organized in taxonomic order, keeping families of birds together for easy identification. This is the essential source for the field, both informative and beautiful to peruse.
---
For more information on this species, visit the following link:
Cornell Lab of Ornithology All About Birds page for this species
Date record last modified:
Jan 18, 2018