Click on the thumbnail to open the full size photo.
Click any of the thumbnails above to view the full sized photo in a lightbox.
Once opened, click on the right or left side of the images to scroll through the other images above.
Anas discors
BLUE WINGED TEAL
Florida native
Blue-winged teal are common winter visitors to Florida. These are long-distance migrants, with some birds traveling as far as South America, so they are often among the earliest waterfowl to arrive each year.
These small ducks are often seen in pairs and small groups on the calm water of marshes and small lakes dabbling and end-up feeding in the shallow and vegetated areas.
Males are in breeding plumage from November through June exhibiting brown bodies, dark back and tail, specked on the sides and breast. The slaty-blue head has a white crescent behind the bill and anther white patch on the sides just in front of the tail. Non-breeding males and females are brown-grey mottled with a fainter, incomplete white crescent barely visible behind the bill. Both sexes show a powder-blue patch on the upper wing coverts in flight.
---
Anas discors is a member of the Anatidae - Ducks, Geese and Swans family.
---
Other species of the Anas genus in the Wild Florida Photo database:
View Anas acuta - NORTHERN PINTAIL

---
Birds of Florida
Todd Telander
A Falcon Field Guide

Purchases of this ebook made by clicking the image link below help support this website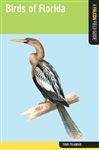 Each Falcon Field Guide to birds introduces the 180 most common and sought-after species in a state. Conveniently sized to fit in your pocket and featuring full-color, detailed illustrations, these informative guides make it easy to identify birds in a backyard, favorite parks, and wildlife areas. Each bird is accompanied by a detailed listing of its prominent attributes and a color illustration showing its important features. Birds are organized in taxonomic order, keeping families of birds together for easy identification. This is the essential source for the field, both informative and beautiful to peruse.
---
For more information on this species, visit the following link:
Cornell Lab of Ornithology All About Birds page for this species
Date record last modified:
Aug 07, 2016