Click on the thumbnail to open the full size photo.
Click any of the thumbnails above to view the full sized photo in a lightbox.
Once opened, click on the right or left side of the images to scroll through the other images above.
Bubo scandiacus
SNOWY OWL
Synonym: Nyctea scandiaca
Not native to Florida
This immature female snowy owl that visited Little Talbot Island State Park in the winter of 2014 is only the third reported sighting of this species in Florida. They can be found year-round along the northern edge of North America with summer breeding in the arctic tundra. Normal winter range includes much of Canada and just into the northern United States, with occasional visits farther into the lower 48. Some years, such as the year this owl visited Florida, there are many snowy owls seen farther south than usual.
Even larger than great horned owls, adults can weigh 4 pounds and stand 58cm (23 in.) tall with a wingspan of 1.3 m (52 in.). Males are nearly pure white with some faint barring. Fledglings are gray and immature owls are white with dense dark bars. Adult females are between immature and male in coloring. All snowys have white faces and eyes that are smaller, relative to their body, than most other owls.

---
Bubo scandiacus is a member of the Strigidae - Typical Owls family.
---
Other species of the Bubo genus in the Wild Florida Photo database:
View Bubo virginianus - GREAT HORNED OWL

---
Birds of Florida
Todd Telander
A Falcon Field Guide

Purchases of this ebook made by clicking the image link below help support this website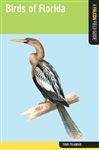 Each Falcon Field Guide to birds introduces the 180 most common and sought-after species in a state. Conveniently sized to fit in your pocket and featuring full-color, detailed illustrations, these informative guides make it easy to identify birds in a backyard, favorite parks, and wildlife areas. Each bird is accompanied by a detailed listing of its prominent attributes and a color illustration showing its important features. Birds are organized in taxonomic order, keeping families of birds together for easy identification. This is the essential source for the field, both informative and beautiful to peruse.
---
For more information on this species, visit the following link:
Cornell Lab of Ornithology web page for this species
Date record last modified:
Jan 19, 2018