Click on the thumbnail to open the full size photo.
Click any of the thumbnails above to view the full sized photo in a lightbox.
Once opened, click on the right or left side of the images to scroll through the other images above.
Trichechus manatus
var. latirostris
MANATEE
WEST INDIAN MANATEE
Florida native
Endangered Florida species
U.S. Threatened species

The native Florida manatee is one of two sub species of the West Indian manatee, the other being the Antillean manatee (Trichechus manatus manatus.
The core of the Florida manatee's range is Florida where they concentrate during the winter in the warmer water near power plants and in spring runs. During the summer months they wander throughout the southeastern United States. The Antillean manatee can be found from Mexico, throughout the Caribbean islands and down to Brazil.
Collisions with motorboats is one of the major causes of injury and death of these large marine mammals. For more information on manatees, visit Save the Manatee Club. Federal listing for manatees was lowered from endangered to threatened in March 2017.


---
Trichechus manatus is a member of the Trichechidae - Manatees family.
---
Travels of William Bartram
William Bartram
Travels Through North & South Carolina, Georgia, East & West Florida, the Cherokee Country, the Extensive Territories of the Muscogulges, or Creek Confederacy, and the Country of the Chactaws...

Purchases of this ebook made by clicking the image link below help support this website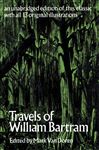 First inexpensive, illustrated edition of early classic on American geography, plants, Indians, wildlife & early settlers. The naturalist's poetic, lovely account of travels through Florida, Georgia, and the Carolinas from 1773 to 1778. Bartram's words Influenced Coleridge, Wordsworth & Chateaubriand.
---