Click on the thumbnail to open the full size photo.
Click any of the thumbnails above to view the full sized photo in a lightbox.
Once opened, click on the right or left side of the images to scroll through the other images above.
Anhinga anhinga
ANHINGA
SNAKE BIRD
WATER TURKEY
Florida native
Anhingas are year round residents of Florida and along the coast all around the Gulf of Mexico, Cuba and south throughout Brazil and other South American countries east of the Andes to Argentina. During the summer season the range expands northward throughout the coastal plain of the southeastern United States.
These unique birds are nearly a meter in length with a wingspan of 1.15 m (~45"). They frequently swim with only the head and neck showing, a trait that prompted the name snake bird. Anhingas can be seen perched in trees near water, often with their wings spread. Unlike cormorants, which assume this posture mainly to dry their feathers, anhingas are believed to be thermo-regulating, absorbing solar energy to offset their low metabolism and high heat loss, especially when wet. For more information on this behavior, see this page at the Audubon Corkscrew Swamp website.
A long fan-shaped tail, heron-like neck and pointed beak help distinguish anhingas from cormorants, which also lack the silvery wing patches.


---
Anhinga anhinga is a member of the Anhingidae - Anhingas and Darters family.
---
Birds of Florida
Todd Telander
A Falcon Field Guide

Purchases of this ebook made by clicking the image link below help support this website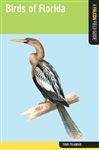 Each Falcon Field Guide to birds introduces the 180 most common and sought-after species in a state. Conveniently sized to fit in your pocket and featuring full-color, detailed illustrations, these informative guides make it easy to identify birds in a backyard, favorite parks, and wildlife areas. Each bird is accompanied by a detailed listing of its prominent attributes and a color illustration showing its important features. Birds are organized in taxonomic order, keeping families of birds together for easy identification. This is the essential source for the field, both informative and beautiful to peruse.
---
For more information on this species, visit the following link:
Cornell Lab of Ornithology page for this species
Date record last modified:
Aug 07, 2016