Click on the thumbnail to open the full size photo.
Click any of the thumbnails above to view the full sized photo in a lightbox.
Once opened, click on the right or left side of the images to scroll through the other images above.
Nyctanassa violacea
YELLOW-CROWNED NIGHT HERON
Synonym: Nycticorax violaceus
Florida native
Yellow-crowned night herons are mostly nocturnal feeders, but can sometimes be seen in the mornings or before dusk searching for their favorite meal of crabs or crayfish.
These wading birds are found throughout Florida and along the coastal areas of the Gulf of Mexico year round. Nyctanassa violacea range in wetlands throughout the southeastern United States in the spring and summer breeding season, occasionally north to the Great Lakes and St. Lawrence River. They are more likely to be found along the coast than black-crowned night herons, which are more likely inland.
A medium-sized stocky heron 55-70 cm (22-28 in.) long with a gray body and yellow legs. The bill and face are black, with white cheeks and a yellowish crown stripe. Immature Nyctanassa violacea are brown with tiny white spots on the wings and narrow indistinct streaks on the underside. The black bill helps differentiate these young birds from immature black-crowned night herons, which have yellow in their bill.


---
Nyctanassa violacea is a member of the Ardeidae - Herons & Bitterns family.
---
Birds of Florida
Todd Telander
A Falcon Field Guide

Purchases of this ebook made by clicking the image link below help support this website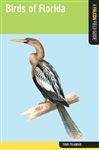 Each Falcon Field Guide to birds introduces the 180 most common and sought-after species in a state. Conveniently sized to fit in your pocket and featuring full-color, detailed illustrations, these informative guides make it easy to identify birds in a backyard, favorite parks, and wildlife areas. Each bird is accompanied by a detailed listing of its prominent attributes and a color illustration showing its important features. Birds are organized in taxonomic order, keeping families of birds together for easy identification. This is the essential source for the field, both informative and beautiful to peruse.
---
For more information on this species, visit the following link:
Cornell Lab of Ornithology All About Birds page for this species
Date record last modified:
Aug 07, 2016