Click on the thumbnail to open the full size photo.
Click any of the thumbnails above to view the full sized photo in a lightbox.
Once opened, click on the right or left side of the images to scroll through the other images above.
Platalea ajaja
ROSEATE SPOONBILL
Synonym: Ajaia ajaja
Florida native
Florida Species of Special Concern

This distinctive bird is a resident of Florida, breeding from the Keys north to Tampa Bay and dispersing along the Gulf and Atlantic coasts from July through October. Found in coastal flats, lagoons and marshes, rarely inland, and often nests in colonies with herons.
A large wader, nearly a meter in length with a wingspan of 1.3 m., roseate spoonbills have a mostly pink body, white on the back and neck, with a bare head. The spatulate bill of Platalea ajaja is swept back and forth through the water and mud feeling for aquatic invertebrates.


Threskiornithidae - Ibises and Spoonbills family.
---
Birds of Florida
Todd Telander
A Falcon Field Guide

Purchases of this ebook made by clicking the image link below help support this website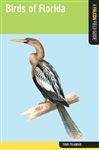 Each Falcon Field Guide to birds introduces the 180 most common and sought-after species in a state. Conveniently sized to fit in your pocket and featuring full-color, detailed illustrations, these informative guides make it easy to identify birds in a backyard, favorite parks, and wildlife areas. Each bird is accompanied by a detailed listing of its prominent attributes and a color illustration showing its important features. Birds are organized in taxonomic order, keeping families of birds together for easy identification. This is the essential source for the field, both informative and beautiful to peruse.
---
For more information on this species, visit the following link:
Cornell Lab of Ornithology All About Birds page for this species
Date record last modified:
Aug 13, 2017