Click on the thumbnail to open the full size photo.
Click any of the thumbnails above to view the full sized photo in a lightbox.
Once opened, click on the right or left side of the images to scroll through the other images above.
Egretta tricolor
TRICOLORED HERON
LOUISIANA HERON
Florida native
Florida Species of Special Concern

Found throughout Florida, tricolored herons range along the Atlantic Coast as far north as Maine in the summer, retreating to south of North Carolina in the winter. The range extends along the U.S. gulf coast, both coasts of Mexico and along the South American coasts to Peru and northern Brazil.
A medium-sized heron, being 63-68 cm (25-28 in.) in length with a wingspan of 95-105 cm (37-41 in.). The white underbelly in all plumages, in combination with a dark breast, is unique among the herons and can assist in identification. The broken white line down the foreneck can appear similar to the great blue heron. Tricolor herons have an extremely long bill, yellow in juveniles and during the winter, turning blue with a dark tip during breeding season, typically February through July in North America. Legs are yellow, turning pinkish-red when in breeding plumage, which includes white head plumes and long buffy plumes on the back. Neck is russet in immature birds, slaty-blue in all adults.
Requiring a wetland habitat, Egretta tricolor is listed as a species of special concern in Florida and a number of other states. Previously called the Louisiana heron, they were historically populous in Louisiana but have suffered from extensive wetlands loss in that area. Significant nesting populations exist in the Tampa Bay and Cape Canaveral areas, and this species will benefit greatly from Everglades restoration.


---
Egretta tricolor is a member of the Ardeidae - Herons & Bitterns family.
---
Other species of the Egretta genus in the Wild Florida Photo database:
View Egretta caerulea - LITTLE BLUE HERON
View Egretta thula - SNOWY EGRET
View Egretta rufescens - REDDISH EGRET

---
Birds of Florida
Todd Telander
A Falcon Field Guide

Purchases of this ebook made by clicking the image link below help support this website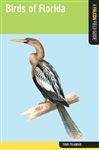 Each Falcon Field Guide to birds introduces the 180 most common and sought-after species in a state. Conveniently sized to fit in your pocket and featuring full-color, detailed illustrations, these informative guides make it easy to identify birds in a backyard, favorite parks, and wildlife areas. Each bird is accompanied by a detailed listing of its prominent attributes and a color illustration showing its important features. Birds are organized in taxonomic order, keeping families of birds together for easy identification. This is the essential source for the field, both informative and beautiful to peruse.
---
For more information on this species, visit the following link:
Cornell Lab of Ornithology All About Birds page for this species
Date record last modified:
Aug 07, 2016