Click on the thumbnail to open the full size photo.
Click any of the thumbnails above to view the full sized photo in a lightbox.
Once opened, click on the right or left side of the images to scroll through the other images above.
Strix varia
BARRED OWL
Florida native
One of the larger owls found in Florida and one of the more likely to be seen during the day. The distinctive "who cooks for you, who cooks for you alllllll" call can often be heard beginning around dusk in the woods of Florida and is a pleasant refrain when camping around the state.
Barred owls are found mostly in the eastern portion of the United States, but the range now extends into Mexico and Canada and overlaps the range of the closely related spotted owl in the northwest.


---
Strix varia is a member of the Strigidae - Typical Owls family.
---
Birds of Florida
Todd Telander
A Falcon Field Guide

Purchases of this ebook made by clicking the image link below help support this website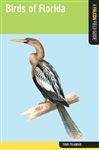 Each Falcon Field Guide to birds introduces the 180 most common and sought-after species in a state. Conveniently sized to fit in your pocket and featuring full-color, detailed illustrations, these informative guides make it easy to identify birds in a backyard, favorite parks, and wildlife areas. Each bird is accompanied by a detailed listing of its prominent attributes and a color illustration showing its important features. Birds are organized in taxonomic order, keeping families of birds together for easy identification. This is the essential source for the field, both informative and beautiful to peruse.
---