Click on the thumbnail to open the full size photo.
Click any of the thumbnails above to view the full sized photo in a lightbox.
Once opened, click on the right or left side of the images to scroll through the other images above.
Pelecanus occidentalis
BROWN PELICAN
Florida native
Florida Species of Special Concern

A large dark bird found mostly near the coast throughout Florida. The range extends through the Gulf coastal states and up the eastern coast into the mid-Atlantic states in summer. Also in southern California and the Baja region of Mexico plus Central America and the Pacific coast of South America from Ecuador to Chile.
Brown pelicans are the only dark pelican and also the only pelican that feeds by plunging into the water to catch fish. They have a large heavy mostly gray body with a very short tail, short legs and webbed feet. The long heavy beak has a pouch underneath. Adult non-breeding birds have a white head and neck, breeding adults have rich dark brown nape and neck. Atlantic & Gulf birds have a dark gray to brown pouch year round, while along the Pacific the pouch is olive becoming red during breeding season. The South American pelicans have a blue pouch in breeding plumage. Juveniles are dirty brown all over except for a white belly.
The digestive system of pelicans is adapted for fish that pelicans can swallow whole. They cannot digest larger fish bones, such as the filleted fish carcass or other parts of sport fish. These larger bones can lodge in their throat or become septic in the stomach and kill the bird. You should never feed or allow pelicans to eat scraps from cleaning fish. Not only is it a bad idea, it is now illegal in Florida.


---
Pelecanus occidentalis is a member of the Pelecanidae - Pelicans family.
---
Other species of the Pelecanus genus in the Wild Florida Photo database:
View Pelecanus erythrorhynchos - AMERICAN WHITE PELICAN

---
Birds of Florida
Todd Telander
A Falcon Field Guide

Purchases of this ebook made by clicking the image link below help support this website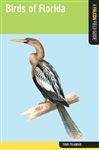 Each Falcon Field Guide to birds introduces the 180 most common and sought-after species in a state. Conveniently sized to fit in your pocket and featuring full-color, detailed illustrations, these informative guides make it easy to identify birds in a backyard, favorite parks, and wildlife areas. Each bird is accompanied by a detailed listing of its prominent attributes and a color illustration showing its important features. Birds are organized in taxonomic order, keeping families of birds together for easy identification. This is the essential source for the field, both informative and beautiful to peruse.
---
For more information on this species, visit the following link:
Cornell Lab of Ornithology All About Birds page for this species
Date record last modified:
Feb 07, 2018