Click on the thumbnail to open the full size photo.
Click any of the thumbnails above to view the full sized photo in a lightbox.
Once opened, click on the right or left side of the images to scroll through the other images above.
Pandion haliaetus
var. carolinensis
OSPREY
Florida native
This year-round resident of Florida is most common along coastal waterways.
There are four species of osprey worldwide. Pandion haliaetus carolinensis can be found in the Americas with some populations resident, as is common in Florida, and others migrating between North and South America and the Caribbean. Non-migratory populations begin breeding between December and March. Migratory populations typically begin breeding from April to May. A non-migratory subspecies P. h. ridgwayi is found in the Caribbean from the Bahamas and Cuba to southeastern Mexico and Belize and has distictive plumage, with the head marking being very pale or non-existent. The subspecies haliaetus is found in Europe, Africa, and Asia north of the Himalayas, while the range of leucocephalus includes Australia and the southwest Pacific.
Ospreys average 23 inches (~58 cm) long with a wingspan of 5' 3" (160 cm). They have dark backs, white undersides and white head with a black stripe through the eye to the back of the neck. Females are typicaly the same length as males, but with greater body mass and wingspans.
After diving for a fish, they will fly up into the air, then shake the water off their wings. If successful, they will be holding their catch in their talons, which will quickly be arranged in line with their body while flying to a perch where the meal is consumed. Nests are made of a mass of sticks, often high in a dead tree, on a man-made platform or topping a navigational buoy.


---
Pandion haliaetus is a member of the Accipitridae - Hawks & Eagles family.
---
Birds of Florida
Todd Telander
A Falcon Field Guide

Purchases of this ebook made by clicking the image link below help support this website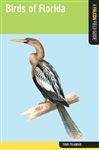 Each Falcon Field Guide to birds introduces the 180 most common and sought-after species in a state. Conveniently sized to fit in your pocket and featuring full-color, detailed illustrations, these informative guides make it easy to identify birds in a backyard, favorite parks, and wildlife areas. Each bird is accompanied by a detailed listing of its prominent attributes and a color illustration showing its important features. Birds are organized in taxonomic order, keeping families of birds together for easy identification. This is the essential source for the field, both informative and beautiful to peruse.
---