Click on the thumbnail to open the full size photo.
Click any of the thumbnails above to view the full sized photo in a lightbox.
Once opened, click on the right or left side of the images to scroll through the other images above.
Elanoides forficatus
SWALLOW-TAILED KITE
Florida native
Swallow-tailed kites breed and can be seen throughout Florida and along the southeastern coast of the United States from spring through summer. They winter in much of South America except for Argentina and Chile.
Usually seen soaring along the edges of woods, often near wetlands, they are the largest kites in North America. The distinctive coloring of the white head and body contrasted with the black wings and forked tail make this an easy bird to identify.
Swallow-tailed kites pluck insects, other invertebrates, lizards and even small snakes from the tops of trees and eat while flying. In mid to late summer large numbers of kites will start roosting together before setting off on their migration to South America.


---
Elanoides forficatus is a member of the Accipitridae - Hawks & Eagles family.
---
Birds of Florida
Todd Telander
A Falcon Field Guide

Purchases of this ebook made by clicking the image link below help support this website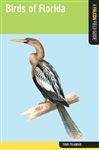 Each Falcon Field Guide to birds introduces the 180 most common and sought-after species in a state. Conveniently sized to fit in your pocket and featuring full-color, detailed illustrations, these informative guides make it easy to identify birds in a backyard, favorite parks, and wildlife areas. Each bird is accompanied by a detailed listing of its prominent attributes and a color illustration showing its important features. Birds are organized in taxonomic order, keeping families of birds together for easy identification. This is the essential source for the field, both informative and beautiful to peruse.
---
For more information on this species, visit the following link:
Cornell Lab of Ornithology All About Birds page for this species
Date record last modified:
Feb 05, 2018