Click on the thumbnail to open the full size photo.
Click any of the thumbnails above to view the full sized photo in a lightbox.
Once opened, click on the right or left side of the images to scroll through the other images above.
Rhododendron canescens
SWEET PINXTER AZALEA
WILD AZALEA
MOUNTAIN AZALEA
Florida native
This member of the rhododendron family is known by numerous names. In addition to those listed above, it is called Florida pinxter, hoary azalea, and wooly azalea. Limited to the panhandle and the northern counties of the peninsula in Florida, R. canescens is found throughout much of the southeastern United States. The species name is Latin for naked-flowered and refers the fact that the flowers often appear in the spring before the leaves are fully expanded.
---
Rhododendron canescens is a member of the Ericaceae - Heath family.
---
Other species of the Rhododendron genus in the Wild Florida Photo database:
View Rhododendron minus var. chapmanii - CHAPMAN'S RHODODENDRON
View Rhododendron indicum - INDICA AZALEA 'Mrs. G.G. Gerbing'

---
Native Florida Plants
Robert G. Haehle; Joan Brookwell
Low Maintenance Landscaping and Gardening

Purchases of this ebook made by clicking the image link below help support this website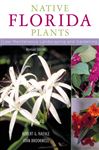 Native landscapes are easier to maintain, use less water and thrive without chemical pesticides and fertilizers. Native Florida Plants describes every type of regional flora—-from seaside foliage and wildflowers to grassy meadows, shrubs, vines, and aquatic gardens—-in 301 profiles and accompanying color photographs.
---