Click on the thumbnail to open the full size photo.
Click any of the thumbnails above to view the full sized photo in a lightbox.
Once opened, click on the right or left side of the images to scroll through the other images above.
Amsonia tabernaemontana
EASTERN BLUESTAR
BLUE DOGBANE
Florida native
An occasional perennial of floodplain forests and wet hammocks in the northern counties from Bradford and Alachua west, south into Levy County, scattered through the eastern and central panhandle, plus Escambia County. The range includes bluffs, woodlands and streambeds through the southeast and lower midwest, west into Texas, Oklahoma and Kansas, and northeast into New York and Massachusetts. Not occurring in West Virginia, Connecticut or Rhode Island.
Distinguished from the other Amsonia found in Florida, A. ciliata by wider, lanceolate to elliptic leaves that are short-petiolate on the upper portion of the plant.
Growing to one meter (~3ft.) high, with loosely branched smooth stems and having milky sap. The numerous pale blue star shaped flowers have a hairy five-lobed corolla. The fruits are paired, erect, linear follicles 5-10 cm (2-4 in.) long.
---
Amsonia tabernaemontana is a member of the Apocynaceae - Dogbane family.
---
Other species of the Amsonia genus in the Wild Florida Photo database:
View Amsonia ciliata - FRINGED BLUESTAR

---
Native Florida Plants
Robert G. Haehle; Joan Brookwell
Low Maintenance Landscaping and Gardening

Purchases of this ebook made by clicking the image link below help support this website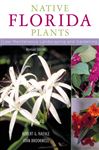 Native landscapes are easier to maintain, use less water and thrive without chemical pesticides and fertilizers. Native Florida Plants describes every type of regional flora—-from seaside foliage and wildflowers to grassy meadows, shrubs, vines, and aquatic gardens—-in 301 profiles and accompanying color photographs.
---