Click on the thumbnail to open the full size photo.
Click any of the thumbnails above to view the full sized photo in a lightbox.
Once opened, click on the right or left side of the images to scroll through the other images above.
Erythrina herbacea
CORALBEAN
CHEROKEE BEAN
REDCARDINAL
Florida native
A frequent shrub mainly of hammocks and found throughout much of Florida. The range extends through the southeastern coastal states from Texas to North Carolina and also Arkansas and Oklahoma.
The showy red flowers appear in tall terminal racemes from winter through summer, often before or just as the distinctive leaves emerge. Later in the year, the namesake poisonous red seeds develop in a loment that splits open when it matures. The alternate, compound, trifoliolate leaves are made up of trianglular leaflets that are somewhat three-lobed.
Of the dozen species of Erythrina found in the United States, this is the only one occurring in Florida. At one time it was proposed that the larger, more treelike specimens found in south Florida were a separate species - E. arborea - but recent treatments consider them all E. herbacea.
---
Erythrina herbacea is a member of the Fabaceae - Pea family.
---
Native Florida Plants
Robert G. Haehle; Joan Brookwell
Low Maintenance Landscaping and Gardening

Purchases of this ebook made by clicking the image link below help support this website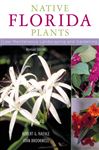 Native landscapes are easier to maintain, use less water and thrive without chemical pesticides and fertilizers. Native Florida Plants describes every type of regional flora—-from seaside foliage and wildflowers to grassy meadows, shrubs, vines, and aquatic gardens—-in 301 profiles and accompanying color photographs.
---
Atlas of Florida Vascular Plants (Institute for Systemic Botany) profile for this species
USDA Plant Profile for this species
Date record last modified:
Aug 07, 2016