Click on the thumbnail to open the full size photo.
Click any of the thumbnails above to view the full sized photo in a lightbox.
Once opened, click on the right or left side of the images to scroll through the other images above.
Helenium amarum
BITTERWEED
SPANISH DAISY
SNEEZEWEED
Florida native

These photos were taken July 22, 2006 at Lyonia Preserve in a scrub/disturbed habitat (along a fence row between a sand road and the powerline right-of-way).
This plant was about 30 inches high, with a branching, glabrous, vertically ribbed stem. The alternate leaves are linear ranging from 3 to 5.5 cm long and 2-3 mm wide. The entire flower head was about 2cm wide, the yellow disk about 1 cm in diameter. The disk was surrounded by 13 small yellow parts - possibly not yet developed ray flowers?

---
Helenium amarum is a member of the Asteraceae - Aster family.
---
Other species of the Helenium genus in the Wild Florida Photo database:
View Helenium pinnatifidum - SOUTHEASTERN SNEEZEWEED
View Helenium flexuosum - PURPLEHEAD SNEEZEWEED

---
Native Florida Plants
Robert G. Haehle; Joan Brookwell
Low Maintenance Landscaping and Gardening

Purchases of this ebook made by clicking the image link below help support this website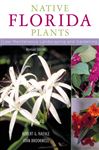 Native landscapes are easier to maintain, use less water and thrive without chemical pesticides and fertilizers. Native Florida Plants describes every type of regional flora—-from seaside foliage and wildflowers to grassy meadows, shrubs, vines, and aquatic gardens—-in 301 profiles and accompanying color photographs.
---