Click on the thumbnail to open the full size photo.
Click any of the thumbnails above to view the full sized photo in a lightbox.
Once opened, click on the right or left side of the images to scroll through the other images above.
Solanum chenopodioides
BLACK NIGHTSHADE
GOOSEFOOT NIGHTSHADE
DIVINE NIGHTSHADE
Synonym: Solanum nigrescens
Florida native
A common shrub of disturbed sites throughout much of Florida, Solanum chenopodioides is also native to South America.
This is one of two species of black nightshades native to Florida, the other being S. americanum, or american black nightshade. They can be differentiated by the mature fruit, S. chenopodioides having dull black nodding fruit, while S. americanum has shiny black fruits that are held erect.
---
Solanum chenopodioides is a member of the Solanaceae - Potato family.
---
Other species of the Solanum genus in the Wild Florida Photo database:
View Solanum capsicoides - SODA APPLE
View Solanum viarum - TROPICAL SODA APPLE
View Solanum dulcamara - CLIMBING NIGHTSHADE
View Solanum bahamense - BAHAMA NIGHTSHADE
View Solanum americanum - AMERICAN BLACK NIGHTSHADE

---
Native Florida Plants
Robert G. Haehle; Joan Brookwell
Low Maintenance Landscaping and Gardening

Purchases of this ebook made by clicking the image link below help support this website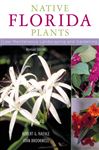 Native landscapes are easier to maintain, use less water and thrive without chemical pesticides and fertilizers. Native Florida Plants describes every type of regional flora—-from seaside foliage and wildflowers to grassy meadows, shrubs, vines, and aquatic gardens—-in 301 profiles and accompanying color photographs.
---