Click on the thumbnail to open the full size photo.
Click any of the thumbnails above to view the full sized photo in a lightbox.
Once opened, click on the right or left side of the images to scroll through the other images above.
Guzmania monostachia
WEST INDIAN TUFTED AIRPLANT
FUCHS' BROMELIAD
STRAP-LEAVED GUZMANIA
Florida native
Endangered Florida species
Although this bromeliad is rare, it can be found in locally abundant colonies in swamps and wet tropical hammocks of south Florida.
Guzmania monostachia ranges throughout the West Indies, Mexico, Central America, Peru and Brazil. In Florida it is only found in Miami-Dade, mainland Monroe and Collier counties.
The 2-3 cm (3/4 to 1-1/4 in.) wide leaves of this epiphytic perennial can be up to 50 cm (20 in.) long, nearly parallel-sided and tapering abruptly near the tip. Monostachia means one-spiked, referring to the single spike of many flowers. This inflorescence is covered with bracts that are green with chocolate color stripes on the lower part of the spike, with the upper ones varying from pink to scarlet. Small white, tubular flowers protrude from behind these bracts. Guzmania mostly blooms from February through August, peaking during the months of May, June and July.
---
Guzmania monostachia is a member of the Bromeliaceae - Bromeliad family.
---
Native Florida Plants
Robert G. Haehle; Joan Brookwell
Low Maintenance Landscaping and Gardening

Purchases of this ebook made by clicking the image link below help support this website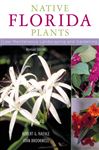 Native landscapes are easier to maintain, use less water and thrive without chemical pesticides and fertilizers. Native Florida Plants describes every type of regional flora—-from seaside foliage and wildflowers to grassy meadows, shrubs, vines, and aquatic gardens—-in 301 profiles and accompanying color photographs.
---
Atlas of Florida Vascular Plants (Institute for Systemic Botany) profile for this species
USDA Plant Profile for this species
Date record last modified:
Aug 07, 2016