Click on the thumbnail to open the full size photo.
Click any of the thumbnails above to view the full sized photo in a lightbox.
Once opened, click on the right or left side of the images to scroll through the other images above.
Corallorrhiza wisteriana
SPRING CORALROOT
WISTER'S CORALROOT
Florida native
This small terrestrial orchid can be easily overlooked in the calcareous woodlands, pine flatwoods and shell middens where it can be found. Being mycotrophic, it lacks leaves and chlorophyll.
Spring coralroot is common and widespread throughout the northern parts of the state becoming rarer southward down the peninsula and not present in extreme south Florida. The range includes much of the continental United States except the far west, north central and northeast states.
Corallorrhiza wisteriana has 5-30cm tall brownish-yellow stems with 5 to 25 flowers that appear from late December through April. Sepals are green to yellow suffused and mottled with purple. The lip is white with small purple spots. Two rare forms occur in Florida, each known from only one location. One has yellow stems and pure white flowers, the other is red stemmed with red marked flowers.
---
Corallorrhiza wisteriana is a member of the Orchidaceae - Orchid family.
---
Native Florida Plants
Robert G. Haehle; Joan Brookwell
Low Maintenance Landscaping and Gardening

Purchases of this ebook made by clicking the image link below help support this website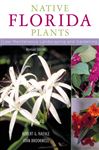 Native landscapes are easier to maintain, use less water and thrive without chemical pesticides and fertilizers. Native Florida Plants describes every type of regional flora—-from seaside foliage and wildflowers to grassy meadows, shrubs, vines, and aquatic gardens—-in 301 profiles and accompanying color photographs.
---