Click on the thumbnail to open the full size photo.
Click any of the thumbnails above to view the full sized photo in a lightbox.
Once opened, click on the right or left side of the images to scroll through the other images above.
Arnoglossum floridanum
FLORIDA INDIAN PLANTAIN
FLORIDA CACALIA
Synonym: Cacalia floridana, Mesadenia floridana
Florida native
Endemic to Florida
A frequent plant of sandhills, scrub and pine flatwoods occurring only the the Florida peninsula north of Lake Okeechobee.
The ray florets are lacking on the distinctive flowers of this genus. The most prominent feature of the Florida indian plantain flowers are the five green winged phyllaries of the cylindrical disk florets. Leaves are alternate, strongly veined and oval or broadest near their base. The lowest leaves are crenate and 7 to 9 nerved. Plants can reach over a meter tall with a grooved, glabrous stem branching in the upper part of the plant.
Of the two endemic Arnoglossum, A. floridanum is more widespread than A. album, which is only found in Bay and Gulf Counties.


---
Arnoglossum floridanum is a member of the Asteraceae - Aster family.
---
Other species of the Arnoglossum genus in the Wild Florida Photo database:
View Arnoglossum diversifolium - VARIABLELEAF INDIAN PLANTAIN
View Arnoglossum ovatum - OVATELEAF INDIAN PLANTAIN

---
Native Florida Plants
Robert G. Haehle; Joan Brookwell
Low Maintenance Landscaping and Gardening

Purchases of this ebook made by clicking the image link below help support this website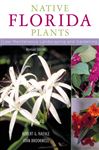 Native landscapes are easier to maintain, use less water and thrive without chemical pesticides and fertilizers. Native Florida Plants describes every type of regional flora—-from seaside foliage and wildflowers to grassy meadows, shrubs, vines, and aquatic gardens—-in 301 profiles and accompanying color photographs.
---
Atlas of Florida Vascular Plants (Institute for Systemic Botany) profile for this species
USDA Plant Profile for this species
Date record last modified:
Feb 25, 2018