Click on the thumbnail to open the full size photo.
Click any of the thumbnails above to view the full sized photo in a lightbox.
Once opened, click on the right or left side of the images to scroll through the other images above.
Pleopeltis polypodioides
var. michauxiana
RESURRECTION FERN
Florida native
This common epiphytic is one of the most easily recognizable ferns in Florida. Growing mostly on the trunks and branches of live oaks, resurrection fern can also be found on other trees and occassionally limestone. The common name comes from the characteristic of the fern to shrivel up and appear dead during dry periods but revive and become lush and green again after rains.
---
Pleopeltis polypodioides is a member of the Polypodiaceae - Polypody family.
---
Native Florida Plants
Robert G. Haehle; Joan Brookwell
Low Maintenance Landscaping and Gardening

Purchases of this ebook made by clicking the image link below help support this website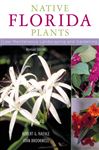 Native landscapes are easier to maintain, use less water and thrive without chemical pesticides and fertilizers. Native Florida Plants describes every type of regional flora—-from seaside foliage and wildflowers to grassy meadows, shrubs, vines, and aquatic gardens—-in 301 profiles and accompanying color photographs.
---
Atlas of Florida Vascular Plants (Institute for Systemic Botany) profile for this species
USDA Plant Profile for this species
Date record last modified:
Aug 07, 2016