Click on the thumbnail to open the full size photo.
Click any of the thumbnails above to view the full sized photo in a lightbox.
Once opened, click on the right or left side of the images to scroll through the other images above.
Urena lobata
CAESARWEED
Not native to Florida
Florida Exotic Pest Plant Council: Category II designation
Invasive exotics that have increased in abundance or frequency but have not yet altered Florida plant communities to the extent shown by Category I species.
Planting this species should be avoided and removal of existing plants may be desirable.
This perennial can be found throughout peninsular Florida and Escambia County. The range also includes Louisiana, Hawaii, Puerto Rico and the Virgin Islands. It is native to eastern India.
The semi-woody stem is hairy and grows up to 3 meters tall. The 5-petaled pink flowers are united at the base. Leaves are alternate, seven viened, ovate, shallowly lobed and finely toothed.
---
Urena lobata is a member of the Malvaceae - Mallow family.
---
Native Florida Plants
Robert G. Haehle; Joan Brookwell
Low Maintenance Landscaping and Gardening

Purchases of this ebook made by clicking the image link below help support this website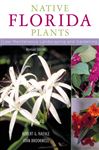 Native landscapes are easier to maintain, use less water and thrive without chemical pesticides and fertilizers. Native Florida Plants describes every type of regional flora—-from seaside foliage and wildflowers to grassy meadows, shrubs, vines, and aquatic gardens—-in 301 profiles and accompanying color photographs.
---
Atlas of Florida Vascular Plants (Institute for Systemic Botany) profile for this species
USDA Plant Profile for this species
Date record last modified:
Aug 07, 2016