Click on the thumbnail to open the full size photo.
Click any of the thumbnails above to view the full sized photo in a lightbox.
Once opened, click on the right or left side of the images to scroll through the other images above.
Polypremum procumbens
RUSTWEED
JUNIPERLEAF
Florida native
A common mat-forming annual throughtout most of Florida and all of the southeastern United States. Ranges west to Texas and Oklahoma, northwest into Missouri, Illinois and Indiana, and north along the eastern coast into Pennsylvania and New Yourk state.
The diffuse, smooth branches radiate from a central crown and turn reddish-brown with age, starting at the base. The tiny white flowers have four petals that are fused, hairy within the throat and have five sepals. The flowers are on short branched spikes. Leaves are opposite, entire, elliptic or ovate to lanceolate, tapered at the base. The leaf bases are connected by stipular membranes.
---
Polypremum procumbens is a member of the Buddlejaceae - Butterfly-bush family.
---
Native Florida Plants
Robert G. Haehle; Joan Brookwell
Low Maintenance Landscaping and Gardening

Purchases of this ebook made by clicking the image link below help support this website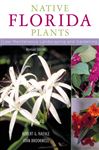 Native landscapes are easier to maintain, use less water and thrive without chemical pesticides and fertilizers. Native Florida Plants describes every type of regional flora—-from seaside foliage and wildflowers to grassy meadows, shrubs, vines, and aquatic gardens—-in 301 profiles and accompanying color photographs.
---
Atlas of Florida Vascular Plants (Institute for Systemic Botany) profile for this species
USDA Plant Profile for this species
Date record last modified:
Aug 07, 2016