There are no photos available for this species.
Rhexia virginica
HANDSOME HARRY
VIRGINIA MEADOW-BEAUTY
COMMON MEADOW BEAUTY
Florida native
A frequent small herbaceous plant of flatwoods, bogs and cyress pond margins across the northern border of Florida. This includes most of the panhandle and the most northern part of the peninsula and down the Atlantic coast into Flagler County. The range extends from Texas to Michigan and thoughout the entire eastern United States plus Britich Columbia, Ontario and Nova Scotia. R. virginica is the only Rhexia species found in Canada.
The flowers have pink to purple petals. The showy bright yellow stamens are tipped with long curved anthers. The lanceolate to ovate leaves are subsessile. All four faces of the stem are nearly equal in width and flat at mid-height. The stem and leaves have at least some trichomes.
---
Rhexia virginica is a member of the Melastomataceae - Melastome family.
---
Other species of the Rhexia genus in the Wild Florida Photo database:
View Rhexia mariana - MARYLAND MEADOWBEAUTY
View Rhexia parviflora - WHITE MEADOWBEAUTY
View Rhexia alifanus - SAVANNAH MEADOWBEAUTY
View Rhexia nuttallii - NUTTALL'S MEADOWBEAUTY
View Rhexia petiolata - FRINGED MEADOWBEAUTY
View Rhexia cubensis - WEST INDIAN MEADOWBEAUTY

---
Native Florida Plants
Robert G. Haehle; Joan Brookwell
Low Maintenance Landscaping and Gardening

Purchases of this ebook made by clicking the image link below help support this website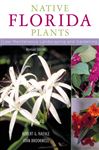 Native landscapes are easier to maintain, use less water and thrive without chemical pesticides and fertilizers. Native Florida Plants describes every type of regional flora—-from seaside foliage and wildflowers to grassy meadows, shrubs, vines, and aquatic gardens—-in 301 profiles and accompanying color photographs.
---
Atlas of Florida Vascular Plants (Institute for Systemic Botany) profile for this species
USDA Plant Profile for this species
Date record last modified:
Aug 07, 2016