Click on the thumbnail to open the full size photo.
Click any of the thumbnails above to view the full sized photo in a lightbox.
Once opened, click on the right or left side of the images to scroll through the other images above.
Rudbeckia nitida
SHINY CONEFLOWER
ST. JOHN'S SUSAN
Florida native
Endangered Florida species
This perennial grows to around 4 feet tall with showy terminal flowers consisting of yellow drooping ray florets and reddish-brown disk florets in a cylindric to conical shape. The glabrous stems help differentiate Rudbeckia nitida from other coneflower species.
This rare plant of wet flatwoods is found in scattered locations thoughout its range of Florida, Georgia & Alabama. Much of this plant's habitat has been converted to pine plantations, leaving most populations confined to roadside ditches and powerline rights-of-way where they are subject to road widening, clearing, mowing and herbicide spraying.
---
Rudbeckia nitida is a member of the Asteraceae - Aster family.
---
Other species of the Rudbeckia genus in the Wild Florida Photo database:
View Rudbeckia graminifolia - GRASSLEAF CONEFLOWER
View Rudbeckia hirta - BLACKEYED SUSAN

---
Native Florida Plants
Robert G. Haehle; Joan Brookwell
Low Maintenance Landscaping and Gardening

Purchases of this ebook made by clicking the image link below help support this website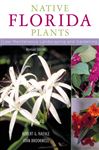 Native landscapes are easier to maintain, use less water and thrive without chemical pesticides and fertilizers. Native Florida Plants describes every type of regional flora—-from seaside foliage and wildflowers to grassy meadows, shrubs, vines, and aquatic gardens—-in 301 profiles and accompanying color photographs.
---
Atlas of Florida Vascular Plants (Institute for Systemic Botany) profile for this species
USDA Plant Profile for this species
Date record last modified:
Jan 13, 2018