Click on the thumbnail to open the full size photo.
Click any of the thumbnails above to view the full sized photo in a lightbox.
Once opened, click on the right or left side of the images to scroll through the other images above.
Eryngium baldwinii
BALDWIN'S ERYNGO
Florida native
A common inconspicuous wildflower of flatwoods, floodplain forests and disturbed sites throughout most of the peninsula and west into the central panhandle.
The blue to bluish-violet flowers are very small dense globular to ovoid clusters arising from the leaf axils. Each of the tiny florets have five petals and five stamens. The bracts barely extend beyond the flower cluster. The slender stems are prostrate, creeping along the ground. The alternate leaves are highly variable, some are either elliptic to elliptic ovate and toothed. Others are lobed or deeply dissected, either palmately ot ternately (in three parts).
---
Eryngium baldwinii is a member of the Apiaceae - Carrot family.
---
Other species of the Eryngium genus in the Wild Florida Photo database:
View Eryngium aromaticum - FRAGRANT ERYNGO
View Eryngium yuccifolium - BUTTON RATTLESNAKEMASTER

---
Native Florida Plants
Robert G. Haehle; Joan Brookwell
Low Maintenance Landscaping and Gardening

Purchases of this ebook made by clicking the image link below help support this website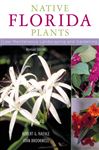 Native landscapes are easier to maintain, use less water and thrive without chemical pesticides and fertilizers. Native Florida Plants describes every type of regional flora—-from seaside foliage and wildflowers to grassy meadows, shrubs, vines, and aquatic gardens—-in 301 profiles and accompanying color photographs.
---
Atlas of Florida Vascular Plants (Institute for Systemic Botany) profile for this species
USDA Plant Profile for this species
Date record last modified:
Jun 07, 2017