Click on the thumbnail to open the full size photo.
Click any of the thumbnails above to view the full sized photo in a lightbox.
Once opened, click on the right or left side of the images to scroll through the other images above.
Asimina reticulata
NETTED PAWPAW
FLATWOODS PAWPAW
NETLEAF PAWPAW
Florida native
Endemic to Florida
Flowers appear from January through July on the growth of the previous season, opening before or with the emergence of the current season's leaves. The flowers are made up of 3 deciduous sepals and 6 creamy white petals. The larger 3 outer petals are oblong and spreading, while the smaller 3 inner petals have corragations on the inside bases that are a deep purple. The woody stems are branched and grow up to one meter tall or more. Asimina reticulata can be found in pine flatwoods, sandhills, coastal shrub and ruderal sites.
---
Asimina reticulata is a member of the Annonaceae - Custard-apple family.
---
Other species of the Asimina genus in the Wild Florida Photo database:
View Asimina pygmaea - DWARF PAWPAW
View Asimina obovata - BIGFLOWER PAWPAW
View Asimina parviflora - SMALLFLOWER PAWPAW
View Asimina angustifolia - SLIMLEAF PAWPAW
View Asimina incana - WOOLLY PAWPAW
View Asimina triloba - COMMON PAWPAW
View Asimina tetramera - FOURPETAL PAWPAW
View Asimina spatulata -
View Asimina x nashii -

---
Native Florida Plants
Robert G. Haehle; Joan Brookwell
Low Maintenance Landscaping and Gardening

Purchases of this ebook made by clicking the image link below help support this website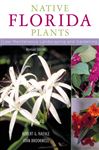 Native landscapes are easier to maintain, use less water and thrive without chemical pesticides and fertilizers. Native Florida Plants describes every type of regional flora—-from seaside foliage and wildflowers to grassy meadows, shrubs, vines, and aquatic gardens—-in 301 profiles and accompanying color photographs.
---