Click on the thumbnail to open the full size photo.
Click any of the thumbnails above to view the full sized photo in a lightbox.
Once opened, click on the right or left side of the images to scroll through the other images above.
Malvaviscus penduliflorus
MAZAPAN
TURKSCAP MALLOW
Not native to Florida
This popular landscape plant is an introduced species that is now found throughout most of the central and southern penninsula of Florida, plus Franklin County in the panhandle. Native to an area from Mexico to Brazil, it is an exotic in Florida, Texas, Hawaii and Puerto RIco.
A relative of the hibiscus, the bloom is similar, except that the petals of the drooping flowers remain closed and overlapping in a spiral. There are two species of Malvaviscus in Florida, both exotic. The undersides of the leaves of M. penduliflorus are glabrate, while the underside of the leaves on M. arboreus are pubescent.
---
Malvaviscus penduliflorus is a member of the Malvaceae - Mallow family.
---
Native Florida Plants
Robert G. Haehle; Joan Brookwell
Low Maintenance Landscaping and Gardening

Purchases of this ebook made by clicking the image link below help support this website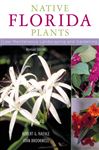 Native landscapes are easier to maintain, use less water and thrive without chemical pesticides and fertilizers. Native Florida Plants describes every type of regional flora—-from seaside foliage and wildflowers to grassy meadows, shrubs, vines, and aquatic gardens—-in 301 profiles and accompanying color photographs.
---
Atlas of Florida Vascular Plants (Institute for Systemic Botany) profile for this species
USDA Plant Profile for this species
Date record last modified:
Aug 07, 2016