Click on the thumbnail to open the full size photo.
Click any of the thumbnails above to view the full sized photo in a lightbox.
Once opened, click on the right or left side of the images to scroll through the other images above.
Pieris phyllyreifolia
VINE WICKY
CLIMBING FETTERBUSH
CLIMBING HEATH
Florida native
A small evergreen shrub, nonparasitic and often extending upward just under the bark of cypress, white cedar and titi trees. Vine wicky is found in and near cypress and white cedar wetlands and along the wet edges of pinelands and moist flatwoods through the panhandle and down the center of the Florida peninsula as far as Lake County. Pieris phyllyreifolia is also found in the southeastern coastal plain from Mississippi to South Carolina.
The leaves are alternate, 1.5 - 7 cm long, 0.5 - 2 cm wide, dark green above, stiff and revolute. The flowers are urn shaped and borne in clusters in the leaf axils, especially near the ends of branches, and appear from winter to spring.
---
Pieris phyllyreifolia is a member of the Ericaceae - Heath family.
---
Native Florida Plants
Robert G. Haehle; Joan Brookwell
Low Maintenance Landscaping and Gardening

Purchases of this ebook made by clicking the image link below help support this website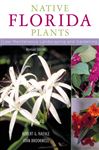 Native landscapes are easier to maintain, use less water and thrive without chemical pesticides and fertilizers. Native Florida Plants describes every type of regional flora—-from seaside foliage and wildflowers to grassy meadows, shrubs, vines, and aquatic gardens—-in 301 profiles and accompanying color photographs.
---
Atlas of Florida Vascular Plants (Institute for Systemic Botany) profile for this species
USDA Plant Profile for this species
Date record last modified:
Aug 07, 2016