Click on the thumbnail to open the full size photo.
Click any of the thumbnails above to view the full sized photo in a lightbox.
Once opened, click on the right or left side of the images to scroll through the other images above.
Asimina triloba
COMMON PAWPAW
DOG BANANA
INDIAN BANANA
Florida native
A deciduous shrub to small tree, in Florida limited to mesic woodlands of the central panhandle. The range extends through much of the central and eastern United States - west into Texas, northwest to Nebraska, north into Ontario, and as far northeast as New York.
The maroon flowers are from 2-5 cm wide when opened, on pedicels of 1cm or longer, appearing in late spring and early summer. Leaves are alternate and entire, from 15-30 cm long and with mostly acuminate tips.
---
Asimina triloba is a member of the Annonaceae - Custard-apple family.
---
Other species of the Asimina genus in the Wild Florida Photo database:
View Asimina pygmaea - DWARF PAWPAW
View Asimina reticulata - NETTED PAWPAW
View Asimina obovata - BIGFLOWER PAWPAW
View Asimina parviflora - SMALLFLOWER PAWPAW
View Asimina angustifolia - SLIMLEAF PAWPAW
View Asimina incana - WOOLLY PAWPAW
View Asimina tetramera - FOURPETAL PAWPAW
View Asimina spatulata -
View Asimina x nashii -

---
Native Florida Plants
Robert G. Haehle; Joan Brookwell
Low Maintenance Landscaping and Gardening

Purchases of this ebook made by clicking the image link below help support this website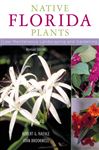 Native landscapes are easier to maintain, use less water and thrive without chemical pesticides and fertilizers. Native Florida Plants describes every type of regional flora—-from seaside foliage and wildflowers to grassy meadows, shrubs, vines, and aquatic gardens—-in 301 profiles and accompanying color photographs.
---