Click on the thumbnail to open the full size photo.
Click any of the thumbnails above to view the full sized photo in a lightbox.
Once opened, click on the right or left side of the images to scroll through the other images above.
Psychotria nervosa
WILD COFFEE
SEMINOLE BALSAMO
SHINYLEAF WILD COFFEE
Florida native
Wild coffee is a common plant of hammocks through most of the Florida peninsula except for some of the most northern counties. The range includes Puerto Rico and the Virgin Islands.
This evergreen shrub has shiny green leaves with obvious depressed veins on the upper surface. The small, white four or five lobed flowers are sessile. The fruit is a red ellipsoid drupe.
Of the four species of Psychotria in Florida, only one other has sessile flowers. P. sulzneri ranges though the central and southern peninsula, has greenish-white flowers and dull leaves. The other two species are only found in extreme south Florida, including the keys. Bahama wild coffee is listed as endangered in Florida and has stalked flower clusters. Dotted wild coffee is native to Africa and also has stalked flowers, plus the lower surface of the leaves have conspicuous dots or spots.
---
Psychotria nervosa is a member of the Rubiaceae - Madder family.
---
Native Florida Plants
Robert G. Haehle; Joan Brookwell
Low Maintenance Landscaping and Gardening

Purchases of this ebook made by clicking the image link below help support this website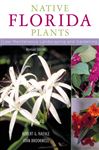 Native landscapes are easier to maintain, use less water and thrive without chemical pesticides and fertilizers. Native Florida Plants describes every type of regional flora—-from seaside foliage and wildflowers to grassy meadows, shrubs, vines, and aquatic gardens—-in 301 profiles and accompanying color photographs.
---
Atlas of Florida Vascular Plants (Institute for Systemic Botany) profile for this species
USDA Plant Profile for this species
Date record last modified:
Aug 07, 2016