Click on the thumbnail to open the full size photo.
Click any of the thumbnails above to view the full sized photo in a lightbox.
Once opened, click on the right or left side of the images to scroll through the other images above.
Lilium superbum
TURK'S CAP LILY
TURKSCAP LILY
Florida native
Endangered Florida species
In Florida a rare plant of hammocks in the panhandle counties of Jefferson, Leon and Liberty. While the primary range is the Appalachian mountains, Lilium superbum is also found in scattered locations west to the Mississippi River, plus Arkansas and Missouri. It requires shaded ground and is usually in moist areas such as wet meadows or damp places on wooded slopes.
This plant can reach a height of 3 meters with a stiff, straight stem. The elliptic to lanceolate leaves are whorled and widest at the middle. The flowers appear in summer and are drooping with six recurved orange and yellow tepals with darker spots.Each tepal has a green wedge at the base, forming a star pattern. This green in the flower helps to distinguish Turk's cap lily from Carolina lily (L. michauxii), which also has leaves that are widest above the middle.
---
Lilium superbum is a member of the Liliaceae - Lily family.
---
Other species of this genus in the Wild Florida Photo database:
View Lilium catesbaei - PINE LILY

---
Florida Wildflowers in Their Natural Communities
Walter Kingsley Taylor
Walter Taylor's guide will help readers recognize and identify wildflowers by where they're most likely to be found growing - their natural habitat.

Purchases made by clicking the image link below help support this website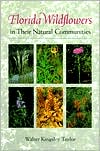 This book is the first of its kind for Florida. Taylor provides detailed descriptions and color photos of each community - pine flatwoods, sandhills, upland pine forest, scrub, temperate hardwood forest, coastal uplands, subtropical pine forest, tropical hardwood hammock, and ruderal sites - and of the wildflower species associated with each.
---