Click on the thumbnail to open the full size photo.
Click any of the thumbnails above to view the full sized photo in a lightbox.
Once opened, click on the right or left side of the images to scroll through the other images above.
Tillandsia bartramii
BARTRAM'S AIRPLANT
Florida native
This airplant is frequently found in hammocks of the Florida peninsula from just north of Lake Okeechobee to the Suwannee River and from Jefferson County to Gulf County in the panhandle. Tillandsia bartramii can also be found in Georgia, South Carolina and Tamaulipas, Mexico.
Bartram's airplant is an epiphyte, anchoring itself on trees with its wiry roots, but not deriving any nutrition from the tree, unlike a parasite. It is and evergreen herb forming dense clusters of stiff, spreading leaves on the branches and trunks of trees. The leaves are covered with pinkish-gray scales, less than 5mm (1/4 in.) wide except for the widened triangular base, subulate to filiform and 15-40 cm (6-16 in.) long. The flowers appear in spring and summer at the end of 8-15cm (3-6 in.) long stalks ending in rose-red overlapping bracts, with 5-20 flowers emerging from the bracts. The corolla is narrow and tubular, made up of three violet petals. The fruit is a narrow brown tubular capsule 2.5-3cm (~1 in.) long that opens into three parts releasing plumed seeds.


---
Tillandsia bartramii is a member of the Bromeliaceae - Bromeliad family.
---
Other species of the Tillandsia genus in the Wild Florida Photo database:
View Tillandsia fasciculata var. densispica - CARDINAL AIRPLANT
View Tillandsia setacea - SOUTHERN NEEDLELEAF
View Tillandsia variabilis - SOFT-LEAVED WILD PINE
View Tillandsia balbisiana - NORTHERN NEEDLELEAF
View Tillandsia utriculata - GIANT AIRPLANT
View Tillandsia usneoides - SPANISH MOSS

---
Native Florida Plants
Robert G. Haehle; Joan Brookwell
Low Maintenance Landscaping and Gardening

Purchases of this ebook made by clicking the image link below help support this website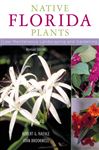 Native landscapes are easier to maintain, use less water and thrive without chemical pesticides and fertilizers. Native Florida Plants describes every type of regional flora—-from seaside foliage and wildflowers to grassy meadows, shrubs, vines, and aquatic gardens—-in 301 profiles and accompanying color photographs.
---
Atlas of Florida Vascular Plants (Institute for Systemic Botany) profile for this species
USDA Plant Profile for this species
Date record last modified:
Oct 28, 2017