Click on the thumbnail to open the full size photo.
Click any of the thumbnails above to view the full sized photo in a lightbox.
Once opened, click on the right or left side of the images to scroll through the other images above.
Pteroglossaspis pottsii
POTTS' PLUME ORCHID
Synonym: Eulophia ecristata
Florida native
Endemic to Florida
This terrestrial orchid was originally described from a single location, becoming the second species of this genus to occur in the United States. Pteroglossaspis pottsii is shorter and has smaller flowers than P. ecristata, and seems to prefer a slightly higher and dryer habitat than the wider ranging species.
The dusty rose colored flowers are in a terminal raceme, twisted around the upper part of the scape. Most flowers do not appear to fully open. The fruit is a five-ribbed ovate capsule. Plants are 60-80 cm (24-31.5 in.) tall with acuminate leaves 30-50 cm (12-20 in.) long and 1-1.5 cm (0.4-0.6 in.) wide. Flowers number from 6-29 and appear from late July through October.
Some experts consider this to be the same species as P. ecristata. Others consider all of the Pteroglossaspis members of the genus Eulophia. Reports of this species occurring elsewhere, such as near Folkston, Georgia and in the Francis Marion National Forest of South Carolina are likely P. ecristata forma purpurea, the purple form of giant orchid.


---
Pteroglossaspis pottsii is a member of the Orchidaceae - Orchid family.
---
Native Florida Plants
Robert G. Haehle; Joan Brookwell
Low Maintenance Landscaping and Gardening

Purchases of this ebook made by clicking the image link below help support this website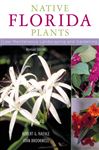 Native landscapes are easier to maintain, use less water and thrive without chemical pesticides and fertilizers. Native Florida Plants describes every type of regional flora—-from seaside foliage and wildflowers to grassy meadows, shrubs, vines, and aquatic gardens—-in 301 profiles and accompanying color photographs.
---
Atlas of Florida Vascular Plants (Institute for Systemic Botany) profile for this species
USDA Plant Profile for this species
Date record last modified:
Aug 07, 2016