Click on the thumbnail to open the full size photo.
Click any of the thumbnails above to view the full sized photo in a lightbox.
Once opened, click on the right or left side of the images to scroll through the other images above.
Avicennia germinans
BLACK MANGROVE
Florida native
The most wide ranging of the mangroves in Florida, black mangroves can be found in coastal counties as far north as St. Johns County on the east coast and Levy County on the west, plus Taylor and Franklin Counties. Also occurs in Mississippi, Louisiana and Texas. The range includes Mexico, much of the Caribbean and parts of Central and South America,
One of the most distinctive features of Avicennia germinans are the pneumatophores. These are erect aerial roots that allow the plant to breathe. They are narrow. mostly straight, vertical roots that resemble skinny stalagmites surrounding the plant. Black mangroves have small tubular flowers with four white petals that are borne in conical clusters. The fruit is a flattened green pod from 3-5 cm long, asymmetrical in shape with pointed apices, somewhat resembling a large misshapen lima bean.


---
Avicennia germinans is a member of the Verbenaceae - Verbena family.
---
Native Florida Plants
Robert G. Haehle; Joan Brookwell
Low Maintenance Landscaping and Gardening

Purchases of this ebook made by clicking the image link below help support this website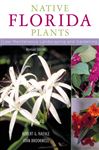 Native landscapes are easier to maintain, use less water and thrive without chemical pesticides and fertilizers. Native Florida Plants describes every type of regional flora—-from seaside foliage and wildflowers to grassy meadows, shrubs, vines, and aquatic gardens—-in 301 profiles and accompanying color photographs.
---
Atlas of Florida Vascular Plants (Institute for Systemic Botany) profile for this species
USDA Plant Profile for this species
Date record last modified:
Aug 07, 2016