Click on the thumbnail to open the full size photo.
Click any of the thumbnails above to view the full sized photo in a lightbox.
Once opened, click on the right or left side of the images to scroll through the other images above.
Mitchella repens
PARTRIDGEBERRY
TWINBERRY
Florida native
This evergreen perennial can be found in hammocks and moist upland wood forests throughout most of the panhandle and much of the north and central peninsula. The range extends west into Texas and Oklahoma and though the eastern portion of North America as far north as Ontario, Quebec and Newfoundland.
This woody herb grows prostrate and appears vine-like. The leaves are opposite, ovoid and glabrous. The usually four-lobed flowers are white, sometimes tinged with pink and hairy inside. Flowers appear in pairs and have a fused ovary, producing a berry with two dimples.
---
Mitchella repens is a member of the Rubiaceae - Madder family.
---
Native Florida Plants
Robert G. Haehle; Joan Brookwell
Low Maintenance Landscaping and Gardening

Purchases of this ebook made by clicking the image link below help support this website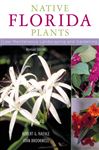 Native landscapes are easier to maintain, use less water and thrive without chemical pesticides and fertilizers. Native Florida Plants describes every type of regional flora—-from seaside foliage and wildflowers to grassy meadows, shrubs, vines, and aquatic gardens—-in 301 profiles and accompanying color photographs.
---